Visited Sites
With Teentor you will know, which sites your children visit on their computers and/ or Android devices, what they search for on the internet, and more. Additionally, the program forces the safe search mode in major search engines (like Google, Bing, Yahoo!, etc.). This makes sure that no inappropriate results will be displayed to your children.
To check the list of visited sites, log in to your control panel and click the "Sites" menu item on the left:
A list of all visited sites (for the selected time period) sorted by duration will be displayed in the main area:
Duration is the total time spent by the corresponding user on the site within the selected time period.
In the "Category" column, you can assign categories for uncategorized sites, or change categories where they are already assigned.
If you are not sure what a particular site contains, you can simply click its name in the "Domain" column to visit the site.
Blocking Sites and Categories
Teentor applies certain restrictions according to the age that you set for your children in the "Users" area of your control panel. However, you can adjust these restrictions in the "Restrictions" area:
Just click the "Deny" button in the row of the corresponding category to deny access to all programs / sites of the category.
To block access to certain sites, just go to the "Sites" report (see above) and assign a restricted category to the site(s) in question.
Search Requests
Forcing the safe search mode ensures that your children will receive only suitable results in major search engines. But you can learn more about your kids, if you know what they search on the internet.
Teentor logs all search requests and puts them into a separate report. To view the report, click "Search phrases" on the left: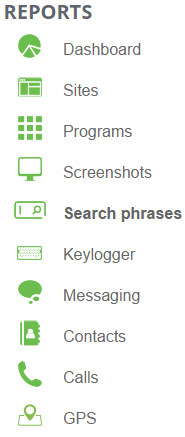 Search request for the selected time period, starting with the most recent ones, will be displayed in the main area: