Calls and SMS
When installed on an Android smartphone, Teentor will send information about all calls and SMS to your control panel.
SMS
To review SMS-messages sent and / or received by the smartphone, log in to your control panel.
In the menu on the left, click "Messaging":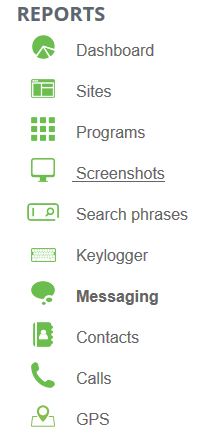 In the main area, all SMS messages for the selected date / time period will be displayed:
Names of contacts are represented as hyperlinks here. You can click a name to display all SMS sent to or received from the given person.
Calls
Unlike SMS, where you can see the complete text messages, calls are not recorded. However, you can see whom your child communicates with, and how long.
In the left menu, click "Calls". This will open a report for the selected time period:
In the "Name" column, you can click the contact's name to see messaging history for that contact.
In the "Phone" column, phone numbers of the corresponding contacts are listed.
The "Call mode" column shows status of the call, which can be one of the three: incoming, outgoing, or missed.
The "Duration" column shows duration of each call in seconds.